The streetlights painted the city with an orange glow, creating an illusion of warmth. I walked by the lines of high-end boutiques of which Rue Flaubert was known. Shop windows were decorated with fake trees, and "Bonne année" was written in fake snow. Whatever wintry atmosphere they wanted to set had failed. After all, it never snowed here. It rained, though, heavily. And the shoddy infrastructure made it a miserable experience. I shivered and wrapped my coat around my face to shield it from the wind, leaving my red, swollen fingers victim to its whips.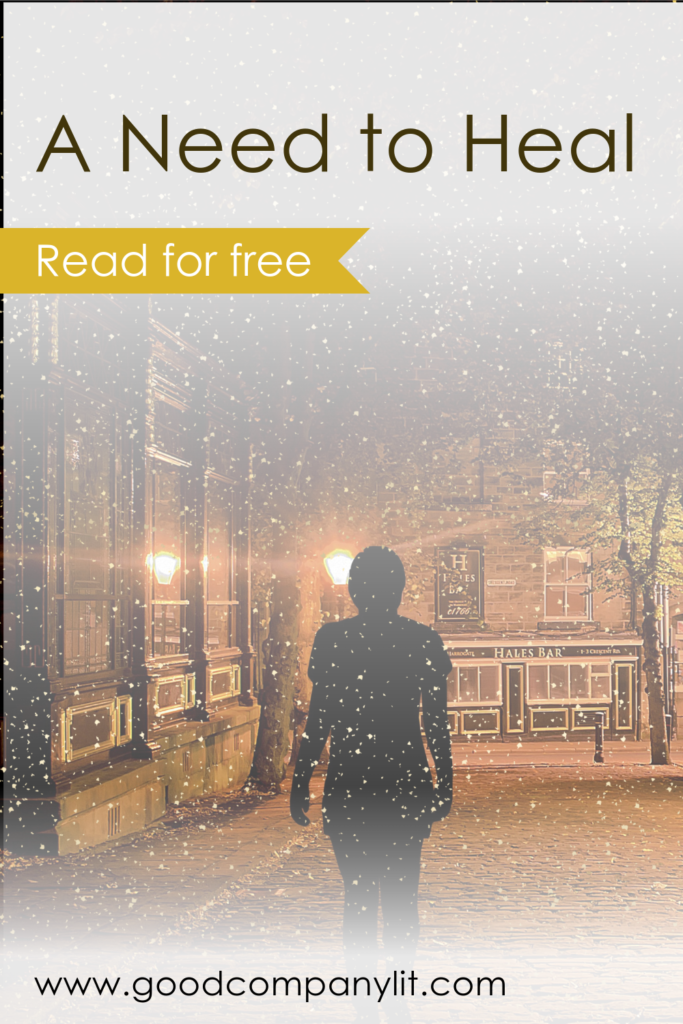 Growing up, we'd never celebrated the New Year, but things were changing, and people liked to imitate what they saw in foreign movies.
I pulled my beanie over my head and looked behind me for a taxi or a bus. There was none. I'd have to walk home and hope to reach there before it rained again.
The stores spilled their lights like bags of glitter on the wet streets, but the festivity was lost despite all the ornaments.
"It's not for us," my father used to say as he sipped his black tea on the couch next to the gas heater. "Colonialism. No matter the form it takes. Don't be a fool. We fought France to give your generation a chance at freedom. Don't let the West enslave you again with their franchises and celebrations and languages. You'll lose yourself before you know it." His face distorted in disgust while his eyes traveled to a past I only read snippets of in schoolbooks, then said, "Your uncle, Lukeman, didn't die for this. He was my best friend…".
He'd tell me one of the same stories that never got old. His words must have imprinted on me because those festivities never tempted me.
It's not for me, I guess.
This New Year, in particular, was impossible to celebrate as I had just laid my father to rest without a body to say goodbye to. All I was looking for was to sleep the day off, and hopefully, never wake up.
I shook my coat from the remaining water that clung to it and jumped the steps to my apartment two at a time. My flat was on the second floor. The stairs were my daily exercise, which I needed tonight to work out my grief and anxiety. I reached my door, panting, with a sheen of sweat coating my forehead.
Sliding into my home was like stepping into my father's embrace. A wave of bitter calmness washed over me. My father had bought this for me when I came to the city for university, and he had his fingerprints all over it. The fuzzy grey carpet, the egg yolk coloured chair, the grey couch, the matching curtains.
Daddy never refused me a thing. The pain of this thought ground my soul into dust.
We'd always had each other. I never knew my mother, and he never married after her. He was my rock, and I was the reason that kept him going…until today.
How am I supposed to live after you, daddy?
I threw my purse on the table, rubbing the tightness in my chest. I headed to the kitchen with a lost appetite and made a chamomile tea that I probably wouldn't drink, then nested in my bed.
My king size bed didn't offer any comfort tonight. My cotton duvet rubbed like sandpaper against my skin. Everything I looked at reminded me of him, and when I closed my eyes, I only saw him. My throat tightened, and I broke into tears like every night since he'd been declared dead. I thought tonight would be different, that the burial was a closure, but it wasn't. A little voice inside me insisted that moving on was a betrayal, that there was still hope he was alive, that I'd find him, that he'd show up, eventually.
I cried until my tears dried up, and nothing was left of me but an empty shell that stared at the ceiling without seeing.
I turned to my right and grabbed the E-Fantasy tablet from my nightstand. This was another gift from my father. I never saw it on the market, but it was a great product—an e-book reader with the world building of a video game.
Time to escape reality.
I pressed the little button on the side. The logo appeared, then a huge, detailed map replaced it. I squinted my eyes at the assault of the screen lights. When the burning subdued, I zoomed in. More details came into view—kingdoms, continents, oceans, cities, forests, mountains….
Many little book icons floated above random places of the city. I didn't explore them all yet, just skimmed over the glossary, then started reading the first book, "The Bleeding Throne". I clicked on the icon. The map disappeared as the book opened on the last page I read.
Maybe I shouldn't read you tonight.
I almost threw it across the room the last time I picked it up. King Rakaan went to war. His kingdom was starving, and if he lost the battle, he'd lose his throne and condemn his people into slavery.

Rakaan, king of Aadon, rode his black stallion down the hill. Behind him, five thousand soldiers covered the horizon. Their galloping set the field quaking as they descended on their enemy.
Rakaan raised his sword in the air. It gleamed under the sun before it fell like a scythe, reaping heads and limbs. He needn't think where to direct his horse or where to land his weapon. Rage guided him and his men. After six months of blockade, the kingdom exhausted its reserve. People died, which caused diseases to spread, even their good old healer had died.
They didn't open their gates out of bravery. It was despair that shoved them in the mouth of death in order to snatch a chance at life. Their enemy's forces lacked the motivation they had. The blockade had its toll on them as well. It kept them away from their land and families. Restlessness filtered into their resolve, weakening their strikes, and their love for life made them easy to kill.
King Hathlan stood at the back of his army, protected by his strongest fighters. Rakaan knew that taking his head down wouldn't stop the war. But it could be a step towards the solution, for the man was a roadblock.
Rakaan's horse took him to his prey like an extension of his body, taking its orders from his brain. It was a risk, but the temptation was stronger than the danger. What would a dead man lose? Athiella's large eyes flashed in front of him. Her long black eyelashes, fluttering like the wings of a butterfly, loosened his grip on the reins of his horse. But it was his queen's sickly pale face that steeled his resolve this morning to break the blockade, and he wouldn't rest until he won or died.
Rakaan unsheathed his second sword and kicked the sides of his horse. His war cry stopped hearts before his swords did. Hathlan's loose hold on his sword shook. He shouted at his soldiers as he retreated further back. Rakaan's smirk tugged at the corner of his mouth while his swords harvested men right and left until his horse stood neck to neck with Hathlan's.
Hathlan pulled on his reins to escape, but Rakaan sank his sword in his back. The man screamed, and the horse's steps faltered. Rakaan's second sword sliced the man's throat, turning his scream into a gurgle and raining blood on the battlefield. Rakaan raised his dripping sword to shout out his victory when the disorientation struck him. His body jerked backward, almost tipping him off his horse, but he tightened his legs around his beast and steadied himself. His chin touched a wooden stick that wasn't there before. Air got caught in his throat. His eyes shot down, but all he could see were the feathers of an arrow sticking out of him. As if on cue, pain seared through his neck….

"Damn this author to hell and back." I threw the E-Fantasy on the bed and covered my eyes with my shaking hands. "Why do I keep doing this to myself? The book is called The bloody Bleeding Throne, bloody! What was I expecting?" I rocked in my place, hoping to forget everything I just read, but my imagination was my worst enemy. The book was almost done. I was expecting him to win the war.
Oh my God. He's dead. The queen, Athiella, is pregnant, and he didn't know it. She'll have to raise his child alone. Will the enemy capture her? Oh my God. This book is the worst. I only kept reading because of the love story. Why did you kill him?
I sobbed for a long time, missing my father and imagining Athiella going through the same pain I was feeling. Then, I cried harder because she didn't deserve that. Her child didn't deserve to be orphaned, and Rakaan didn't deserve to die.
Good men were rare.
I glared at the E-Fantasy's screen that shone innocently, as if it didn't just break my heart. I snatched it again, determined to teach it a lesson.
This is going to have a one star review.
As I read the options, a button at the bottom of the screen caught my gaze. It read "Interactive Story". My eyes lit up. I can change it. I can turn this abomination into a cotton candy rainbow story.
I couldn't press it faster. A pop-up asked me if I was sure about wanting to switch to the interactive mood. I scoffed and pressed yes. Another pop-up warned me that this action was irreversible.
"Well, that's the point." I pressed OK.
At first, the tablet shut down, then a bright light shot from the screen with a buzzing sound that made me flinch and cover my ears. My body shook as a whirlwind took me, but my inner whirlpool was louder. My heartbeat skyrocketed. I thought I was having a seizure. Suddenly, everything stopped.

Since I turned on the heater, I often woke up in the middle of the night with a dry mouth. I groped for the water bottle I kept by the bed but didn't find it. Frowning, I opened my eyes to a strange darkness. The darkness of my room was warm, with the scent of familiarity in the air. This darkness sent chills down my spine. The air was crisp, and the smell of death wiped any trace of sleep from my eyes.
I've been kidnapped.
That was my first thought, especially that I was in a fetal position on a hard floor. I pushed against the stone wall and sat up. My hands weren't cuffed, though. A breeze pushed aside the curtain covering a small window on the opposite wall. The moonlight seeped in to show me I wasn't alone. On the twin bed under the window, lay a body covered with a bloodied sheet. The movement of its chest was almost imperceptible. I took a step towards the sleeping form, only to gasp in horror when I saw who that person was. His face was a little different from how I imagined it, but the arrow sticking from the side of his neck was a hint I couldn't miss.
At first, I froze. Panic rose inside me until it overflowed, and I started to pace.
"Oh my God. Oh my God. I lost my mind. I finally lost my sanity. I'm delusional. What do I look like from the outside?" I stopped in my tracks, imagining myself pacing in my room while my mind showing me this medieval room.
I rubbed my eyes and opened them again. Nothing changed. My chest tightened with irritation. "This is not real. I know that. Why. Is. My mind. Not cooperating?" I said, hitting the sides of my head. "What should I do? How do I get out of here?"
My anxiety intensified, but I couldn't move, afraid I would stumble on something in my room or, worse, topple from my balcony.
It's the stress. I just need to rest, then I'll wake up and find myself in my room.
I walked back to the spot I was in, slid down on the floor, and hugged my knees. I closed my eyes and took a deep breath, then exhaled.
Inhale, exhale.
Inhale, exhale.
Inhale—
A moan cut my concentration. My eyes flew open. The man groaned in his sleep. I hid my face behind my legs and forced my eyes shut.
He's not real. I'm not here.
"Athiella."
The weak whisper sent me to my feet. Pieces of what happened last night came back to me.
"Interactive Story". This is not exactly what I was thinking when I chose that option.
"What am I thinking? This is impossible. I'm not inside the story. This is nonsense."
I looked around. It was amazing how the brain can create such a perfect replica of the story's setting. Some details weren't even in the book.
Hold on. I didn't read this far. The last part I read was when I thought he'd got killed on the battlefield.
My head spun. This is not possible. It was never scientifically proven that a human could time travel, or in this case, travel to a parallel world. This is not even a parallel world. This is a fictional story saved on a server in a binary format.
I am in a binary format. Wide-eyed, I looked down at myself. 010101010101…
A giggle bubbled inside me and skipped my lips before I could stop it.
"I'm cuckoo crazy," My eyes blurred with tears while my mouth was stuck in a silly smile.
Rakaan's low rasp made me fly off the handle.
"Shut up. I don't need more hallucinations. Just stop."
That was a mistake. Fictional character or not, the glare he sent my way turned my blood into ice. My eyes widened. I couldn't blink.
"Who are you?"
Better interact with this story before he turns all my ones into zeros.
"I…I…uh…uh—" I facepalmed myself. Not figuratively. I clacked my face with my palm, and it hurt like the reality of my situation.
"I'm Sandra. I—I can help you," I said with a voice that didn't convince me. I cleared my throat and squared my shoulder. "I'm a doctor."
He didn't answer. His body was tense, like a brick wall.
I don't blame you. I wouldn't have believed me.
I remembered my mismatched socks and my father's old jersey I had on.
He didn't respond, and I'd be damned if I would make the first move. I didn't mind standing here all night.
Or until I wake up, strapped to a table in a psychiatric ward.
Rakaan closed his eyes and lay on his back. The arrow's shaft was broken. Only a small portion was left.
I don't think that's the only wound.
I squinted my eyes, trying to see in the darkness. My brain reported to me everything that could go wrong from the blood loss, to infections, to some rare scenarios I could have done without at that moment.
I was two steps closer to him. The view was better, but not enough.
If I can push the curtains aside, I'll be able to inspect his injuries.
I took another step and yanked the fabric away. The moon lightened Rakaan's face and chest. He was pale from the blood loss. The arrow was deep inside his neck, but it didn't go all the way out. On instinct, I reached for my stethoscope but stopped midway. I sighed. How am I going to do this blindly? There were no X-rays, no anesthesia, no painkillers…
I left that wound and inspected his head and face. His injuries needed cleaning and a stitch to his eyebrow. His upper body, however, wasn't that lucky. He had a long gush from his right biceps, going down to his navel. I swallowed at the sight.
I went to the shelves on the opposite wall, hoping to find anything that could help.
"Herbs, herbs, and more herbs. Oh, honey."
I took the jar down and kept searching.
If only I can find some alcohol, a needle and a thread. This is a violent story. They must have them.
I found them in a basket inside a small closet at the corner of the room and some folded sheets. I dropped them on the chair next to the bed.
Now, to the hard part.
I washed my hands with alcohol, then I leaned over him.
"From what I can see, the arrow didn't touch anything vital. Your vocal cords are fine. I heard you speak. Your nervous system is working. You make me nervous alright without even being awake." It was a lame joke. I didn't laugh. "You didn't bleed out since you got hit, so I assume your jugular is intact."
I bolted upright. "I can't do it. This is going to kill him." My heart thumbed, threatening to leave my body. "But he's not real." I paced, pulling at my hair. "He looks real to me." I stopped and looked at him. "He's going to die if I don't act fast." I took a deep breath and marched to the chair. I poured more alcohol on my hands, the needle and the thread as well. Averting my eyes from the arrow, I pulled the sheet down. The gush was long but not deep. I worked on his wounds, cleaning, stitching, bandaging until my neck and shoulders turned into a wooden board. I stretched out, groaning, but my chest expanded at the sight of a work well done. I quickly deflated when my eyes landed on the only task I wished I could avoid—taking the arrow out of his neck.
If he dies now, my work would be for naught. It's insensitive of me, but he's not real. I froze, looking down at my bloodied hands. How do I look from the outside? Am I still in my room, going through my psychosis alone? Or is there an audience of doctors and nurses, or my neighbors?
I almost went back to my spot, but it was too late to fake sanity. I swallowed the lump in my throat. With hunched shoulders, I placed the honey where I could reach it, washed my hands with alcohol, then held the shaft of the arrow.
"I'm going to pour the honey into your wound while I pull the arrow out. Don't die. You have one job. Don't mess it up."
I tipped the jar, and a thread of honey fell on the torn skin where the head of the arrow disappeared. When it covered the area and started to drip, I tightened my hold on the stick and pulled. Blood and honey rushed to fill the gap that the arrow left. I snatched the alcohol-soaked pieces of fabric and wiped the mixture while pushing the sides of the skin together.
"Needle. I need to stitch it now," I said, as if I was with my team. My world was reduced to the layers of muscles, the blood I kept wiping, and the slippery needle in my hand. I was almost done. Sweat gathered on my forehead. My eyes burned the more I focused, and my fingers went numb.
The moment I cut the last thread, a sob left my lips. Everything I was holding down resurfaced. With blurred eyes and shaking hands, I took the last piece of fabric and wrapped it around his neck. From the corner of my eye, I caught sight of the faraway look in his eyes. Chills ran down my spine. He seemed like a man who succumbed to his death. My heart squeezed in pain.
"You must feel like you're dying, but you're fine." I snuffled. There was still a risk of infection, but I wouldn't tell him that. He wasn't listening anyway.
I gathered the bloodied tissues, chewing on my lips. My mouth spoke before I could think. "Athiella is pregnant. She has your child. Don't give up now." His body jerked, but the pain forced him to settle back on the bed. His eyes squinted at me in confusion and disbelief.
I couldn't blame him. Had I been in his place; waking up to a weird-looking stranger sewing my neck and telling me the future, I would have screamed. He's taking it very well. I'm jealous.
"Look, I know nothing makes sense now, but trust me. Athiella is pregnant, and you won the war. Hathlan is dead. You saved your kingdom, Rakaan."
His confusion turned into fear. I would have laughed, if not for the ringing in my ears.
"You need to keep your wounds clean. Change your dressing every day and use alcohol to clean them."
Somehow, I knew what was happening to me. So I spoke fast, hoping he'd remember my words. "Oh, tell Athiella to wash her hands every time before she tends to you."
Tremors passed through my body. A headache split my head. I closed my eyes, wincing. When I opened them again, I was sprawled on my bed.
Springing on my feet, I looked around.
This is my room. I'm home.
I was covered in blood. My fingers and neck hurt, but a grin settled on my face.
The alarm on my phone went off under my pillow. It was six in the morning. The sky was dark outside my room, but soon the sun would rise.
Everything would be fine. I would be fine.