As famous as Save the Cat! Writes a novel is, I still hear new writers say when they hear the title of this book, "Save the what? What has that to do with writing?"
The title has a story that makes sense when you learn what it means, but it's against every recommendation a marketing specialist would give, like choosing a title that fits your genre and making sure it hasn't been used by an existing book.
As a new writer, don't follow her example in this. You don't have the fan base she had when she wrote her book, and you don't work with the team of the original book like she does.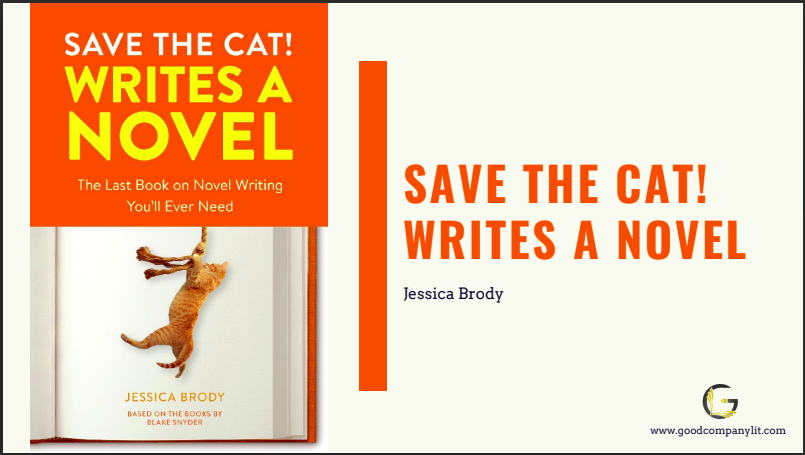 So, Jessica Brody chose that title because her book takes its inspiration from the renowned screenwriting book Save the Cat! The Last Book on Screenwriting You'll Ever Need by Blake Snyder. In the introduction of her book, she said, "The question that I'm sure has been on your mind from the moment you first heard about this book or picked it up in the bookstore. Why on earth is it called "Save the Cat!"?"
Her answer is, "If your main character starts off somewhat unlikable, then, in the early pages of your story, they should save a cat…or do something comparable that immediately makes the reader roots for them…"
But why would she choose a screenwriting book to base her book on? And why would writers want to read it?
You wouldn't have asked this question, if you were a cat owner because, obviously, you don't choose the cat; The cat chooses you. That's what happened to Brody.
She wrote, "…in 2006, I was a former-movie-studio-executive-turned-struggling-novelist, trying (and failing) to sell my first book. I had a file drawer literally full of rejection letters, which all said the same thing: "Great writing. No story." Essentially, I was clueless about plot structure. Until one day, a screenwriter friend of mine handed me a copy of Save the Cat! and told me, "It's a very popular screenwriting book, but I believe it could work for novels too."
He was right.
After reading Save the Cat! cover to cover (multiple times), and comparing Blake's fifteen-beat template to popular novels that I'd read and loved, I soon discovered that with some tweaking and adaption, his methodology could be applied perfectly to novels.
And I set out to prove it.
Now, nearly a decade later, I have sold more than eighteen novels to major publishers like Simon & Schuster, Random House, and Macmillan. My books have been published and translated in over twenty-three countries, and two are currently in development as films."
So Jessica Brody tried the method first hand, and it worked for her. She didn't stop there. She added her experience to it. "For several years before writing this book, I taught an intensive Save the Cat! workshop for novelists. After years of watching writers struggle to figure out what their novel is about, and how to structure it, I have come up with what I believe is the most logical, intuitive, and effective way to guide you through the Save the Cat! Methodology."
As for the second question, she has a section in the introduction of her book to answer just that, "Why should novelists follow in the footsteps of screenwriters?" If you're asking the same, here is the answer, "The truth is, in today's media-centric, fast-paced, technology-enhanced climate, we novelists are actually competing with screenwriters. Like it or not, since the moment that first silent film hit the big screen, novels have had to contend with movies as a source of entertainment."
I might add that the reader's behavior has changed over the years. Who can stand reading three pages of description nowadays? Isn't that one of the reasons why most people struggle to read the classics?
Who's Jessica Brody?
A Bestseller writer. She wrote almost thirty novels and four nonfiction books (writing-related). Jessica Brody offers valuable online classes on her website, www.jessicabrody.com.
Her YouTube channel is full of tips and tricks about writing. 
Click on the links above and get to know more about the writer of Save the Cat! Writes a Novel. You'll find many interviews of her on YouTube as well.
What this book is all about?
This book is about the storyline. It's a step-by-step guideline for writing a well-paced story. It touches on other aspects as well, but the focus is:
How to create a story that makes sense?
How to avoid plot holes?
How to sequence your scenes logically that leads to the climax?
How to ensure that your characters are growing simultaneously as the story develops?
How to create story-worthy characters in the first place
Overview: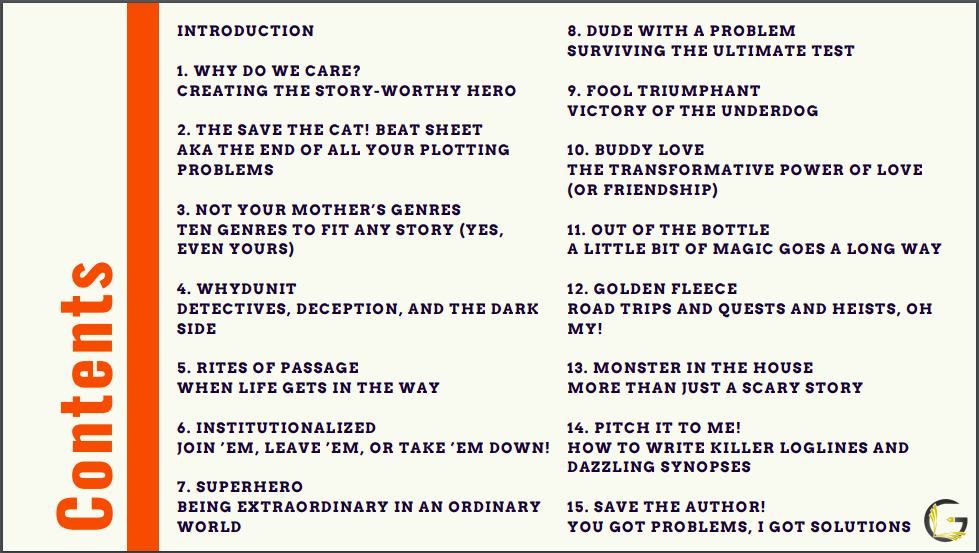 1. Introduction
The introduction is divided into seven sections. Each section answers a very valid question. I think Brody did well on placing those sections there, as these are questions that certainly cross a reader's mind as they go through the book.
A little introduction and the backstory of how she got to know the book and how it helped her with her writing.
A screenwriting Guide for Novelists? This is where she answers the question of why save the cat.
Plotters Versus Pantsers: Basically she's showing you how the book is useful to any writer; For the plotter in the plotting phase and for the pantser in the editing phase.
The "F" Word: No, not that F word you have in mind. She talks about the concern many writers express when they hear of the topic of her book. Will following a Formula (there, you got your F word) take from their creativity and the uniqueness of their stories?
The Beginning: She gives the reader a quick overview of what the book is covering (I'm not going to give you an overview of the overview she gave).
What About the Cat? Yes, finally. In this section she'll tell you the reason why she named her book Save the Cat.
2. Chapter One: Why Do We Care? Creating the Story-Worthy Hero
In her book, Brody refers to the protagonist as the hero. This chapter is all about how to make your reader fall in love with your character from the first pages of the book, so they decide to embark on a journey with them.
At the end of the chapter, you'll find an exercise to help you figure out your character. I find this very helpful. You can literally sit and interview your characters.
3. Chapter Two: The Save the Cat! Beat Sheet aka The End of All Your Plotting Problems
This is the chapter we're all looking for. The one that promised to fix all our problems. The famous beat sheet.
What's The Save the Cat! beat sheet?
It's a road map that helps you safely go from "the beginning" point to "the end" point.
Save the Cat! Beat sheet follows the three-act story structure: beginning, middle, and end. Or as she refers to them in her book: Act1, Act2, Act3.
In every act, there are beats—fifteen in total. Those beats are marked by a percentage based on her studies of many published best sellers. She explains in detail what every beat is about. You can imagine this chapter is very long. Listen to the explanation of the beat sheet from Jessica Brody herself in this video
At the end of the chapter you'll find an exercise, so you can apply what you learn right away.
4. Chapter Three: Not Your Mother's Genres. Ten Genres to Fit Any Story
This is an introductory chapter. First, it clears up any confusion the reader might have about the genres. Those are not the market genres we all know (fantasy, action, romance, sci-fi, etc). This is a different categorization. Some writers call them story types. Regardless of the name, choosing one will help you know:
The theme of your story (the message, the lesson).
Your protagonist's wants and needs.
Your protagonist's stakes.
The emotions you want to evoke in your reader.
The genres suggested in his book are ten. In the next ten chapters, Brody will explain them and implement the beat sheet for each one of them. Also, at the end of each chapter, she'll give you beat sheets of famous published books of that genre, so you can see that the method does what it claims.
The ten genres are:
WHYDUNIT DETECTIVES, DECEPTION, AND THE DARK SIDE
RITES OF PASSAGE WHEN LIFE GETS IN THE WAY
INSTITUTIONALIZED JOIN 'EM, LEAVE 'EM, OR TAKE 'EM DOWN!
SUPERHERO BEING EXTRAORDINARY IN AN ORDINARY WORLD
DUDE WITH A PROBLEM SURVIVING THE ULTIMATE TEST
FOOL TRIUMPHANT VICTORY OF THE UNDERDOG
BUDDY LOVE THE TRANSFORMATIVE POWER OF LOVE (OR FRIENDSHIP)
OUT OF THE BOTTLE A LITTLE BIT OF MAGIC GOES A LONG WAY
GOLDEN FLEECE ROAD TRIPS AND QUESTS AND HEISTS, OH MY!
MONSTER IN THE HOUSE MORE THAN JUST A SCARY STORY
5. Chapter Fourteen: Pitch It to Me! How to Write Killer Loglines and Dazzling Synopses
This is one of my favorite chapters. I hate writing blurbs and synopses. I've tried so many times, and there is always something missing. What I love in this chapter is that it makes you use the beat sheet of your story to write the synopses. When I first saw the method, I found it obvious, which makes it genius. It's like an "aha" moment. "Of course, that's how it should be done."
6. Chapter Fifteen: Save the Author! You Got Problems, I Got Solutions
In this chapter, Brody gives you solutions to some specific problems you might face. She divided this chapter into six sections. Each one starts with 'Help!':
A little introduction to ease you into the subject.
Help! Where Do I Start? The Foundation Beats
Help! I Might Have More Than One Main Character! A Look at Novel Narratives
Help! I'm Writing a Series! The Series Beat Sheet
Help! My Hero is Unlikable! How to Save a Cat
Help! I'm Stuck! Some Parting Words of Wisdom and Inspiration
---
Save the Cat! Writes a Novel is not a book you read, and then save on your shelf. It's a book to be read from cover to cover multiple times with your pen in your hand and your notebook with you. If you're a planning freak new writer, this book will save you tons of time by showing you the exact steps you need to follow. If you're a pantser, this book gives you all the right questions to ask to make sure you don't go off track. Like any new thing to learn, expect a learning curve. The book is packed with information. Take your time to assimilate them, and read the many examples she gave. Also, you need to practice yourself. Take your favorite book and fill in the beat sheet for it. When you feel you're getting the hang of it, try it on your own novel. Your milestones shouldn't hit the beats exactly where she put them, but they need to be around the percentage she suggested.
---
Also Read: Save the Cat! Writes a Novel Beat Sheet